The Garden at Menevia House,
12 Goat Street
We bought our house in August 2001 to use as a holiday home for ourselves, friends and family but, ultimately, with a view to us moving here permanently, which we were very lucky to be able to do in January 2012.
We came to learn that the house was often referred to as 'the Mortimer House'. It had been the home of one Sidney Mortimer, whose fame lies in the story of his involvement in the rescue attempt, using his own boat, of the St Davids Lifeboat 'Gem' and her crew in October 1910, a truly heroic but tragic episode in the history of the RNLI. As a result of the heroism displayed on the night of 13 October that year, Sidney and two Petty Officers were invited to Buckingham Palace, Sidney to receive the Conspicuous Gallantry Medal from King George V, and to have lunch with him afterwards! He subsequently became the youngest coxswain of the next St Davids Lifeboat, the youngest in the British Isles at age 18½.
Both the house and garden were in a dreadful state, having been much neglected for many years. One of the items left for us on arrival at the house on day of completion of sale was a Garden Diary which contained a hand drawn plan of the garden and plants. Unfortunately the diary wasn't very helpful as the entries were rather sparse, and the plan might have been more an aspiration than a record since it contained just about every shrub, perennial and annual imaginable.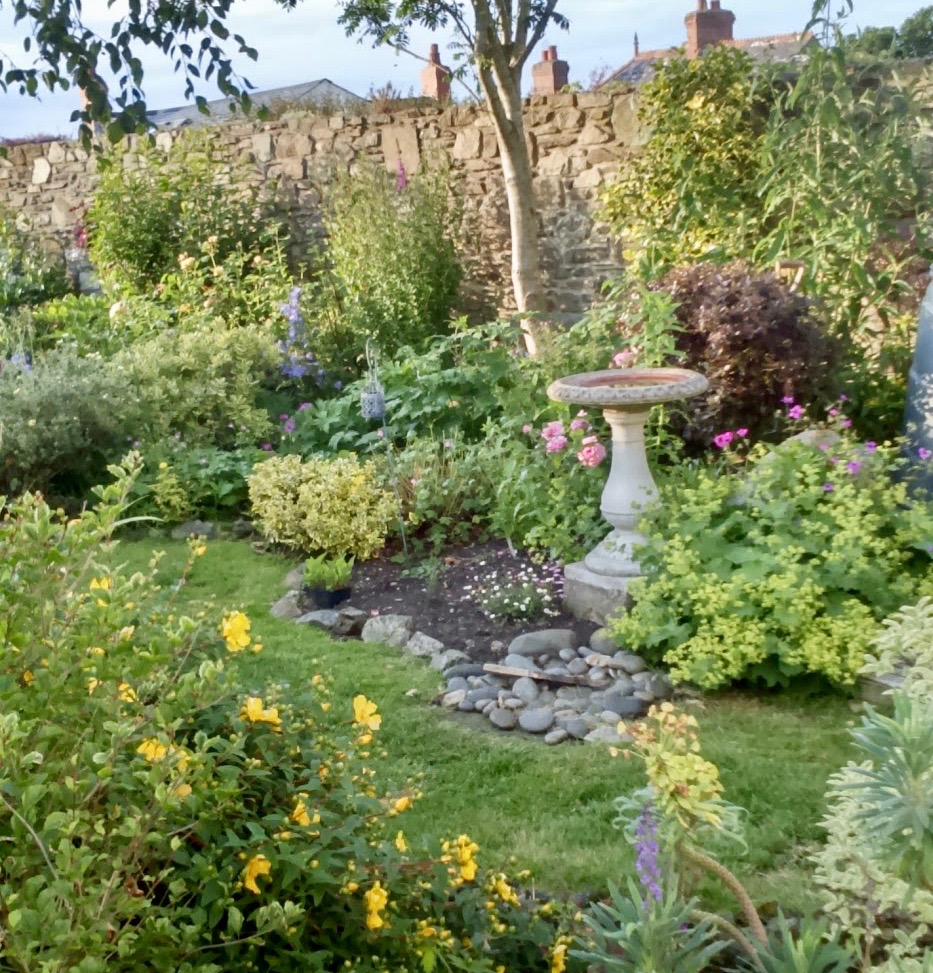 The garden appeared to contain mainly shrubs but it was so overgrown that their trunks were similar in thickness to those of small trees. For example, those planted on one side of the plot had branches and leaves extending over to the other side. A path might have been there once but it was impossible to see one through the interwoven branches, and we couldn't see any ground at all. It was a question of hacking through the centre of the 'jungle' to get to the other end of the plot – everything was chest height and higher, but on the way through we discovered a birdbath, a small pond and a set of steps which led nowhere but which were a physical reminder of the farmhouse
that the property once was, and of the farm buildings which have now become the lovely holiday properties next to us. And we did find the path!
The garden is north-facing so we don't get as much sun throughout the day as we would like, and we think that whoever designed the garden originally did have some expertise because they had chosen plants which suited the conditions and the colours and textures were obviously very carefully selected and placed. But, sadly, the shrubs were just too huge, other plants were not to our taste and, as we wanted to make it 'our' garden, they had to go. However, we have still more or less kept the original shape of the borders and some of the shrubs on one of the boundary walls. And the icing on the cake is the gorgeous silver birch which is a beautiful feature, made even more attractive following its annual cleaning with a weak solution of washing up liquid and a hosing down around Easter time.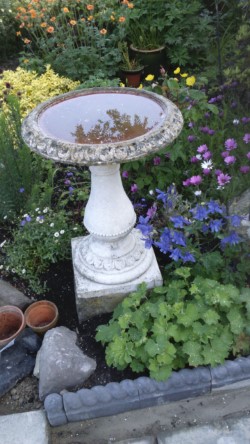 The garden suffers badly from a drainage problem, ie. in very wet winters it becomes a quagmire. However, we have just had a land drain put in place which we hope will solve the problem, or at least minimise it. We like to encourage birds into the garden but (and unfortunately one can't pick and choose) we feel we have the national collection of jackdaws which cause mayhem by hanging on to the feeders and spilling the seed on the ground, flying into the feeders to deliberately knock them so that seed falls to the ground (so clever!) and then pecking up the seeds on the grass path and, in the process, destroying the grass. But, having said that, we also welcome goldfinches, chaffinches, numerous sparrows, dunnocks, blackbirds, robins, collared doves, a lovely thrush which is a recent and regular visitor this year, tits of all kinds, and occasionally some more unusual ones eg. nuthatch, blackcap, plus occasionally a woodpecker though we haven't seen him for a while now. And we've even had a squirrel this year though we wouldn't want him to be too regular a visitor. We also have bees and butterflies, and other pollinating insects. In the summer months, on still, warm evenings when the days have been sunny and the insects have been dancing about, we love to sit in the garden in the twilight with a glass of wine and wait for the bats to come swooping in – always thrilling.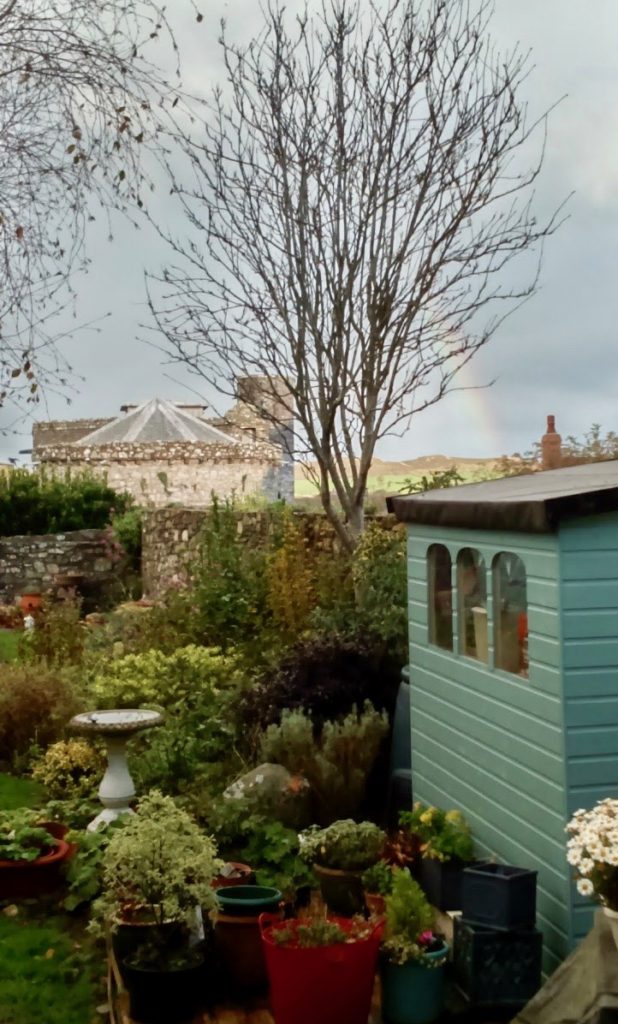 So, although we have lived here for six years, the garden is still very much a work in progress partly because I keep changing my mind about what should go where, whether to have more shrubs again or whether to have more herbaceous perennials, or a mixture of the two, or even whether to have more of less or less of more. We have wide borders so fortunately there is plenty of room for me to plant, dig up and reposition, dig up and compost, dig up and give away, etc etc. And I find it impossible to visit a garden centre without buying something – usually several somethings! I plant the things that I like to see if they'll thrive, although I don't go for very tender or fussy things – the wind and salt air do impose some restrictions really. I'm often amazed that anything grows at all given the north facing aspect and the shadiness and wetness of some parts of the garden. My mantra is plant it and see, give it a go. Plants will often adjust to the conditions you give them. I also love pots and dot these around here and there to fill gaps if necessary. And of course you can never have too many hardy geraniums or too much alchemilla mollis, and I have nowhere near enough.
Last year we took out a hawthorn tree which, although a haven for some small birds (and one year the collared doves actually nested in it and had two chicks!), was casting far too much shade over what is already quite a shady garden so, reluctantly, it had to go, as did a buddleia which had seeded itself there. Neither were things of great beauty and we are now in the process of replanting that border with flowering shrubs and perennials which we hope will 'do'. Fortunately, I have a selection to choose from in my 'recent purchases and acquisitions collection' which are waiting to be positioned and planted and there is usually plenty to dig up and divide from the rest of the garden.
Division of labour is easy: I diddle, potter and plant and my husband does the heavy stuff! Unfortunately, we don't have a greenhouse (yet, though a small one is planned) so sowing plants from seed is something I don't do, unless it's throwing a handful on the garden and seeing what comes up. But I do have my own little potting shed which is a luxury and lovely to spend time in as it has windows on two sides with a good view of the garden, and from a different perspective.
We are currently in the throes of having some hard landscaping done (unfortunately, due to the dreadful winter it couldn't be started earlier), so fingers crossed that the garden will have recovered by end of June. As mentioned earlier, it is a work in progress but I hope we are nearer the end than the beginning (but we all know, don't we, that gardens are never finished).
Another setback, which isn't really a setback at all, is that I had a hip replacement in mid-April so I haven't been able to get down and personal with the borders and plants as much as I would have liked (or at all to be honest) so it may be that some things are not in the right place yet, or in place at all – but I'm not making excuses!
So, my ideal gardening day would be dry and warm with a cornflower blue sky, a gentle breeze and sunshine and I could wander around with a trowel in one hand, a plant in the other and the prospect of a lovely al fresco lunch afterwards. I'm afraid I would own up to being a 'fair weather gardener'. I think Mike would be happy if the lawn is mowed, the birdfeeders are full and jackdaw-free, the birdbath is clean and full and the promise of a pre-prandial glass of something to be enjoyed in the garden in the early evening – actually that would be the end to my ideal day in the garden too.
Mike and I very much hope you will enjoy your stroll around our little piece of St Davids.
The garden is flat, with no steps, it has an all-weather path and lawn with stepping stones but there may be some visible roots to look out for (the whole garden is criss-crossed with them).
There will be some chairs dotted around.
We are very dog friendly but our elderly pooch will probably not bother to come and say hello, as she prefers to sleep a lot nowadays.
There will be a few plants for sale – cuttings and divisions from the garden.