Penfeidr, Anchor Drive
We have lived at Penfeidr since 2011, but did not start work on the garden until 2017. The garden was previously just mainly lawns, so we had a blank canvas to play with.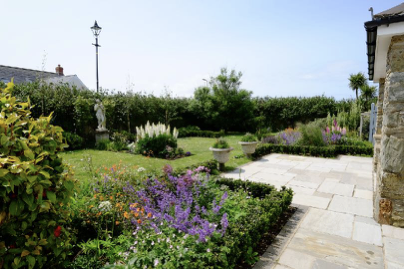 We did some hard landscaping using grey Indian Sandstone to form a terrace and paved areas around the south and east sides of the house.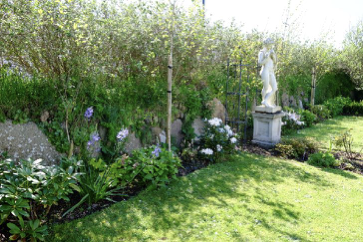 We thought of several designs for the planting, but ended going for a formal arrangement for the main south facing sections of the garden. The terrace is surrounded by a low evergreen hedge in Euonymus Japonicus 'Jean Hugues', with a central gap with an urn each side forming an entrance to the lawn. This borders cottage style planting with mainly herbaceous perennials, roses, grasses and shrubs. There is a narrow border planted mainly in white leading to a statue of a piper. The borders following the hedgebank at the rear have rhododendrons, hydrangeas, three Betula Utilis Jacquemonti 'Snow Queen' trees, and some shade loving perennials.
The strong salty winds we experience in the winter months have been very challenging, and has been a main factor in choosing many of our plants. We have planted some wind breaks e.g. a Elaeagus Ebbingei hedge along the side border with the drive, which have helped to some extent. We are constantly leaning. Some plants love it, some hate it.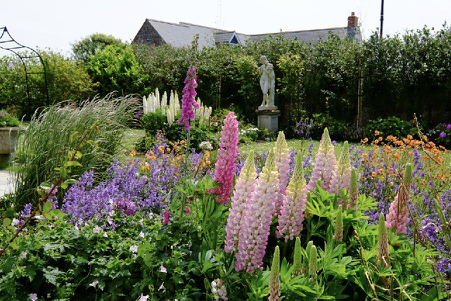 Many of the plants we have chosen encourage bees, and we often see dozens in our borders.
We still have a lot to do in our garden. It is very much work in progress.
Our garden is flat. The paved areas are OK for a wheelchair, apart for the gravel driveway between the pavement on Anchor Drive and our garden gate. Dogs are welcome as long as on a lead.
David and Eileen Bowen and Alice, our little pooch.