Lynne Allbutt
Biography
In 2014 Lynne became the first person to run the width of Wales barefoot and has since written her autobiography Barefoot and Before, which is available from Amazon.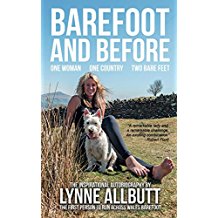 Far from being an ultra-runner or extreme sports woman, Lynne is a gardener with a passion for the outdoors and is often described as a Champion for Mother Nature.
She is an avid writer and speaker whose humour and energy make for informative and lively walks, talks and interviews on topics including keeping pet pigs, bee-keeping (or bee-borrowing as she calls it), garden design, health and well being, mindfulness, Zoopharmacognosy (how animals self medicate in the wild and replicating remedies with oils) and of course, barefooting.
Always preferring an unusual approach, Lynne offers unique sessions which are purely Q&A and during which discusses any of the topics with which she is involved and passionate about. Lynne says, "Most speakers I know actually dread the Q&A session at the end of their structured talks, whereas I love that interaction and spontaneity.  It means members of the audience can ask what they want to know and every session is different.  One minute I can be sharing my experience of running barefoot and the next talking about how animals self medicate in the wild. It is unconventional in the world of public speaking but it keeps me on my toes – barefoot or otherwise!"
Having run her own garden design business since 1985, Lynne's holistic approach to understanding her client's needs and visions, accompanied by her attention to detail, are still available through an affordable consultancy service for those seeking all the benefits of her unique approach and expert advice.  "I am passionate about people getting the most from their garden and outdoor space, ensuring it works for them, their children and their pets and not just to replicate a picture from a magazine.  I believe we need to accommodate nature rather than expect nature to accommodate us."
Lynne pens a weekly full page column for Wales's National newspaper, the Western Mail, also writing for The Tindle Group of Newspapers (The Abergavenny Chronicle) as well as regular freelance articles for a wide variety of magazines, websites and other publications.
As well as being a regular guest on BBC Radio Wales, Lynne has vast experience in front of the camera, having presented a number of garden makeover shows for BBC Wales and Sky TV, plus other appearances including guesting on The Paul O Grady Show and as Derek Brockway's walk guide for BBC's Weatherman Walking (barefoot).
A proud advocate for Wales, she readily pays respect and gives gratitude to the beautiful countryside for providing her profession, recreation and insights.