Jan & John Warren, Ty Uchaf, Treleddyd Fawr, St Davids. SA62 6PP
07775 555305
We live just outside St Davids and hope that visitors (especially those with children) might like to come and cuddle the animals here. We have chickens, goats, horses donkeys and pigs who all seem to think they should be free range…
Jackie Morris, St Davids' famous artist and author is going to be reading stories in my garden on Saturday. (Please ring for times on 07775 555305) they are wonderful and not to be missed. I shall be supplying soup, sandwiches, salad and cakes.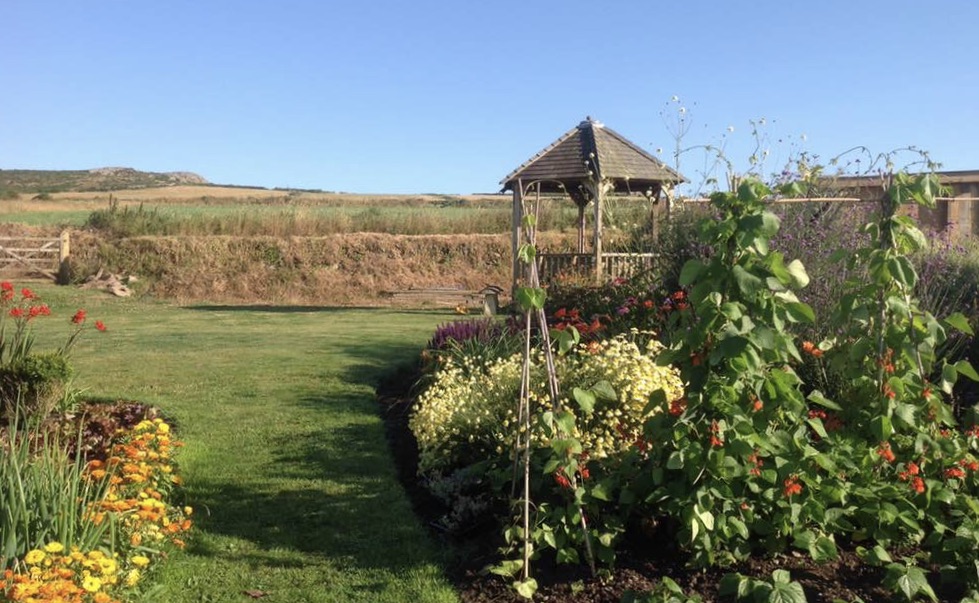 I love being in my garden, the horses always pop their heads over the bank to check on me and my efforts. There is help too from two Pygmy goats, Ant and Dec, they are great at escaping and eating my plants. I did have a sizeable hebe, I ummed and ahhed about trimming back but, decided no, it was such a big and beautiful shape I would leave it. Mmm not sure this will flower again, well have to wait and see!! The joys of goats hehe! 
The views are amazing, so digging this garden out of a field which sloped massively in two directions was a challenge. I was assured that nothing would grow given its location and that terracing and griselinia hedging was the way to go, followed up with a quote for over £8000! So I set about seeing what I could create. 
No buying of plants and planting here, it was picks and shovels and shoulders to the grindstone, as we were in shale, resulting in many a trip to a marvellous 'Bowen' therapist to ease the aching shoulders and neck from the impact of so much hard digging! 
Time to call in a marvellous man and his JCB to help me sculpt a gradual slope in which to make beds, 20 tons of spoil removed, there were the beginnings of a garden. I graded, sieved, raked and seeded, little knowing then that that was the easy bit! Bed by bed the garden grew, as too did my learning as to what would survive in this environment of salt laden gales. Holly – shredded, as did most shrubs, so herbaceous seemed to be the way forward and it flourished. Nothing much to see from late December but due to the lack of frost it put on quite a display up until then, result! Lupins, agapanthus, geums, salvias, flax, verbena bonariensis, crocosmia, budlhia all seemed to thrive, punctuated with a few box bushes – the garden was underway. If it fails to thrive, I dig it up and try it elsewhere. I tell it 'last chance, come on you can do this'!!! 
Being on a footpath there are always people stopping to chat, leaning on our five barred gate exclaiming on our bit of 'tamed' within the wonderful wilderness that is Pembrokeshire. 
I do have help in the garden, at least a couple of times a year. John usually appears as I've finished digging a new bed out of the shale. He likes to help with the heavy digging, especially if there is a camera there to capture the moment. He's great at emptying the barrow loads of weeds I dig up and helping clear after a long day in the garden, just when you need it most. The rest of the time it's me, the grandkids and the animals, 5 ponies, 2 donkeys, 2 piggies, 2 Pygmy goats and a field of young bullocks who pop their heads up over the bank to watch me and keep me company and every time I look up, lean on my fork, I take in the most amazing views. The Preselis in one direction, and a view over to St. Davids, the Cathedral and the sea which shimmers like quicksilver on a sunny day – heaven!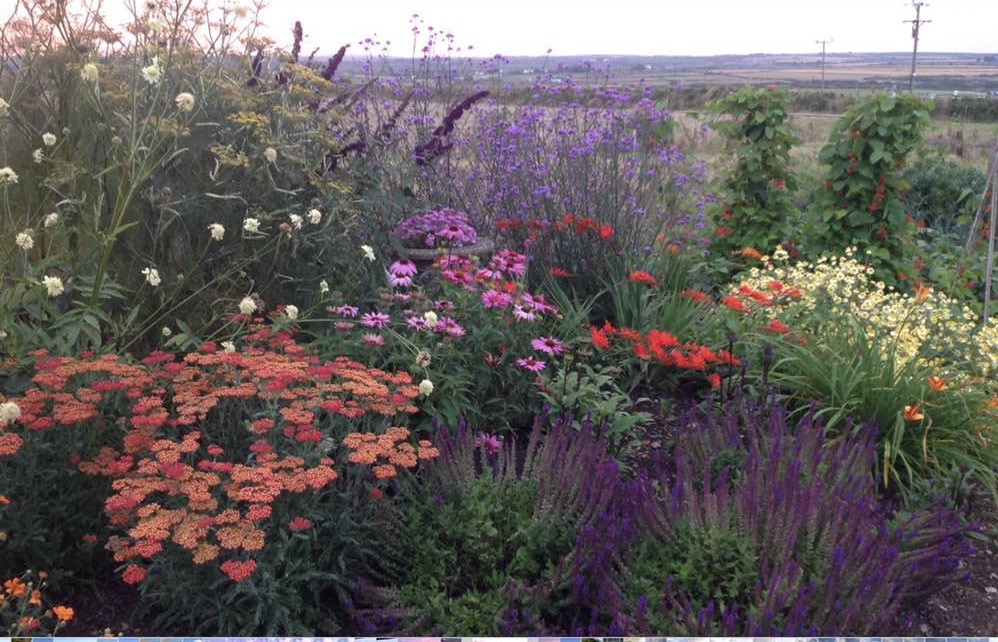 We are nestled between Carn Llidi and Penberry and as night falls the stars are amazing, interrupted only by the flashing of Strumble Head lighthouse one way and The Bishops lighthouse the other, this is indeed a peaceful and magical spot. Come and visit us, cuddle one of our many and growing number of rescue animals, play a game of croquet, walk up through our fields and take in the views over the peninsula and out to sea over the islands and towards Ireland too, have a delicious lunch, dogs and children welcome. 
Am I a gardener, do I know my plants? Not really, but I love creating a place to relax in and take in the most amazing views. The rest is trial and error, a bit of coaxing and a great deal of love being outside in this beautiful place. 
Dogs welcome on leads as there are animals about.