Katy & Andy welcome you to their garden at 13 Maes Dyfed
Open Saturday and Sunday
Our home has a typical St Davids 1970s bungalow garden in the early stages of an unconventional re-design!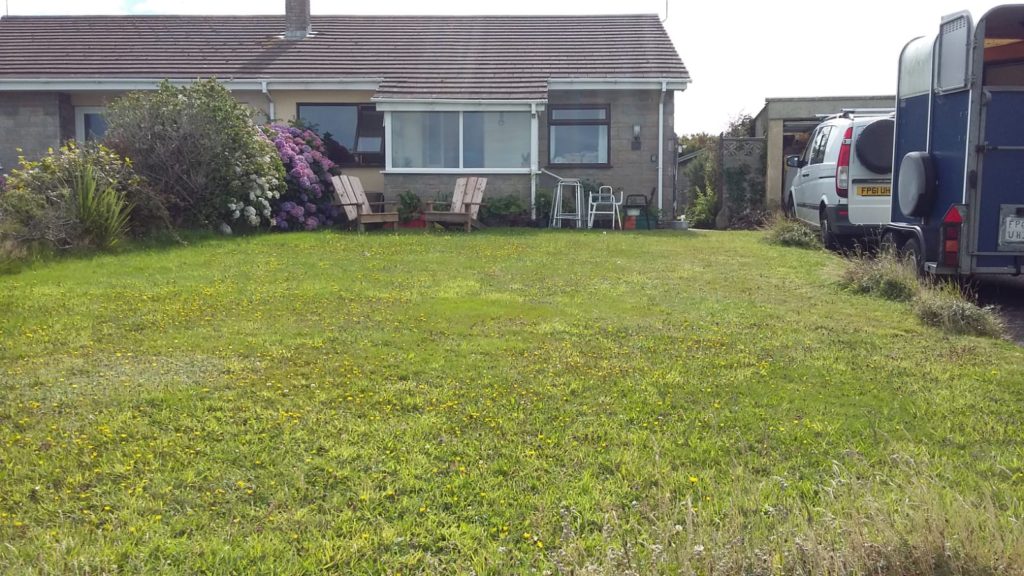 We moved here in July 2020 and inherited a large open front lawn, mown to within an inch of its life with overgrown leggy shrubs down one side, and a traditional back garden consisting of a square lawn with overgrown shrub borders and a huge dead leylandii hedge between us and the attached neighbour.
Although we are also embarking on a total renovation project on the house as well as the garden (which means that a space has to be left clear for building work) we have transformed most of the barren front lawn into a foraging garden for humans and wildlife, which already makes it stand out from the other 40+ houses in the street. At the back we have planted a small orchard/forest garden, made a large temporary veg plot, created a small courtyard fernery and allowed many wildflowers to grow.
In a brainstorming session we came up with a vision for our outdoor space: A low maintenance, striking, lush, productive, abundant, interesting, inspirational, relaxing, private haven full of wildlife!
We are keen veg growers aiming to be as self-sufficient as possible and we enjoy outdoor cooking, eating, entertaining and relaxing throughout the year. As the garden develops there will also be an outdoor kitchen, several seating areas for different times of the day and for different seasons, a large greenhouse, a herb garden, kitchen garden, perennial plants for pollinators, wind breaks, a wildlife pond and anything else we think of that we can squeeze in.
Katy is a "sustainable garden" designer and experiments with new ideas and going against convention in the home garden. If you are interested you can see our garden design plans and discuss our (crazy?) ideas.
The garden is obviously a work in progress. You will see the odd neat pile of old radiators, building materials, bricks, rubble etc here and there but part of our motivation is to inspire others so this is a good opportunity for people to see a project like this from its early stages.
USEFUL INFO:
Easy access – 2 minutes' walk from Cross Square, parking on the street outside. Only one step up into the back garden area, otherwise flat or gently sloping with a wide concrete path to access the back garden.
Several seating areas dotted about.
Dogs welcome on leads.
Some home collected seeds available. Drinking water refills.