Judi welcomes you to her garden at 21 Nun Street
Open Saturday only.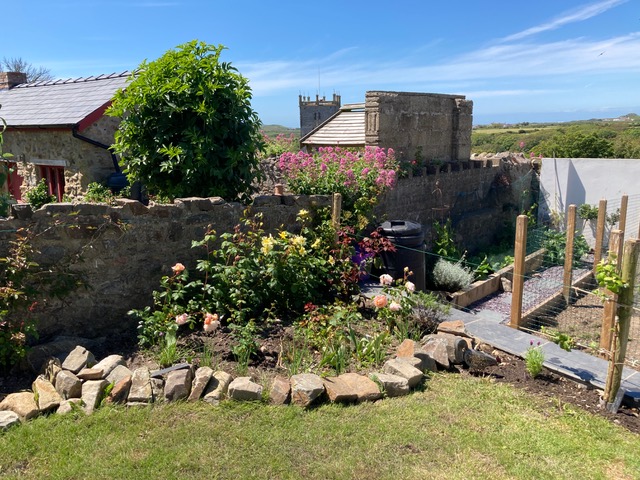 This is a relatively new garden after the entire existing garden was used as a building site during the demolition of the old garage and room above and its replacement by a dependent relative annexe.  The annexe was ready for occupation in October 2019 when the stonework and hard landscaping was mostly finished.  Some plants and cuttings had been preserved during building work and the rose bed and damp shady area were planted up in the autumn of 2019, with the apple trees planted in March of 2020 just before lockdown.  The lawn was seeded in Spring 2020 and was immediately affected by the hot dry spring that followed.   
Because of the steep slope of the land down Quickwell Hill the ground was terraced with a retaining stone wall.  I am training an apple espalier along the top. All the apple cultivars are Welsh:  Brith Mawr is the espalier, the cordon on the south wall is Morgan's Sweet cider apple, and the young tree tucked away in the bottom corner by the salads is an Anglesey Pig's snout.
The planting scheme is based on one sunny and one shady area on a semi formal symmetrical basis where possible.  The predominant colour scheme is white and shades of purple to tone with the slate, and is curved where possible to reflect the shape of the building.  The rose bed, however,  is a mixture of new finds, presents, cuttings from our former garden and plants from the family home.  All have a personal association.
The small greenhouse was designed to use a dead area to best advantage and is used for propagation and overwintering.  It does contain a specimen of Dama de Noche, a powerful scented late summer jasmine which is too tender even for here.
My aim overall is that everything planted should be useful so I have tried hard to make sure that it is either edible, scented, or a good pollinator.  Obviously none of this applies directly to the Hosta collection that surrounds the social area by the back door.  They are simply there because they give great pleasure!
USEFUL INFO:
* Access will be SATURDAY only*
Access is by the double grey gates from the layby on Quickwell Hill, not from the gate on Nun Street.  There is a ramp to the lower garden which contains the utility area, shed, chickens and raised salad and fruit bed. 
Access to other parts of the garden is by a small flight of slate steps but there is no handrail and it is not recommended if you are unsteady on your feet. This level can be viewed from the lower garden. The upper level is mostly flat but there are steps down into the greenhouse.