The Map of the City of St Davids
The map below should be regarded as a guide rather than a precise indication of facilities or even the open gardens themselves. The participating gardens are indicated by the numbers 1-12 but in no particular order or ranking. Please check out the website and locate areas and the gardens you would like to visit and make a note of their numbers and then plan your own itinerary. As you approach the location of the gardens the site will be signposted for you with a BEE .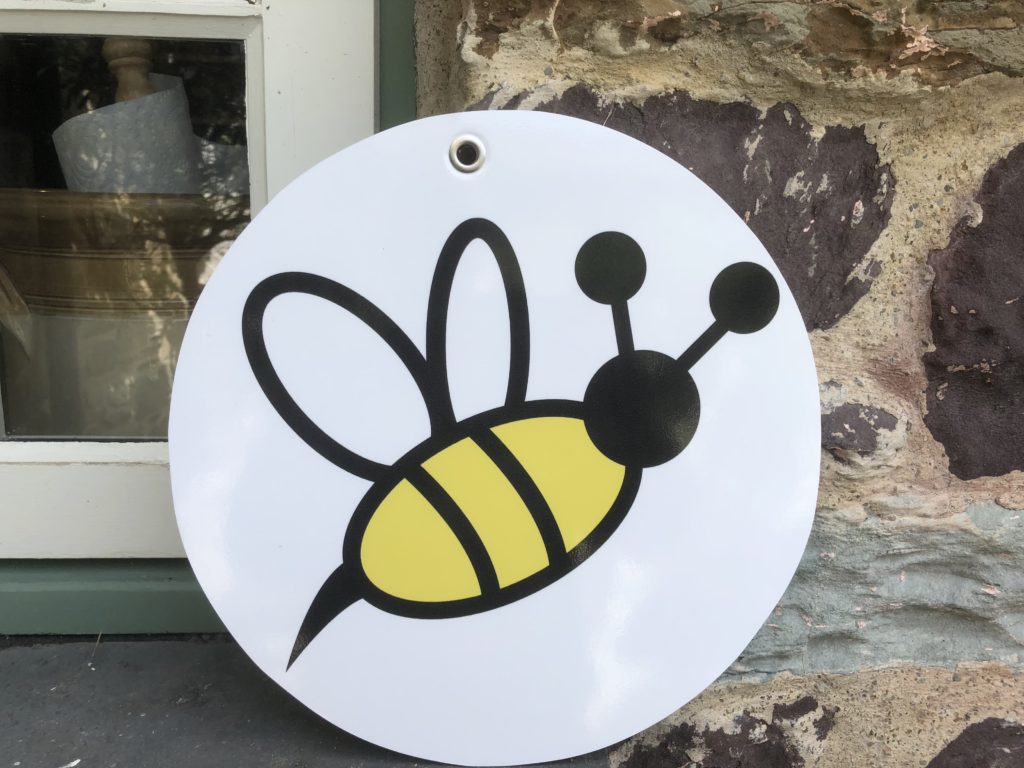 St Davids is officially recognised as a Bee Friendly City. You can see the details of the gardens on the website under "Our Gardens". Enjoy your explorations and the lovely people you will meet in our beautiful City.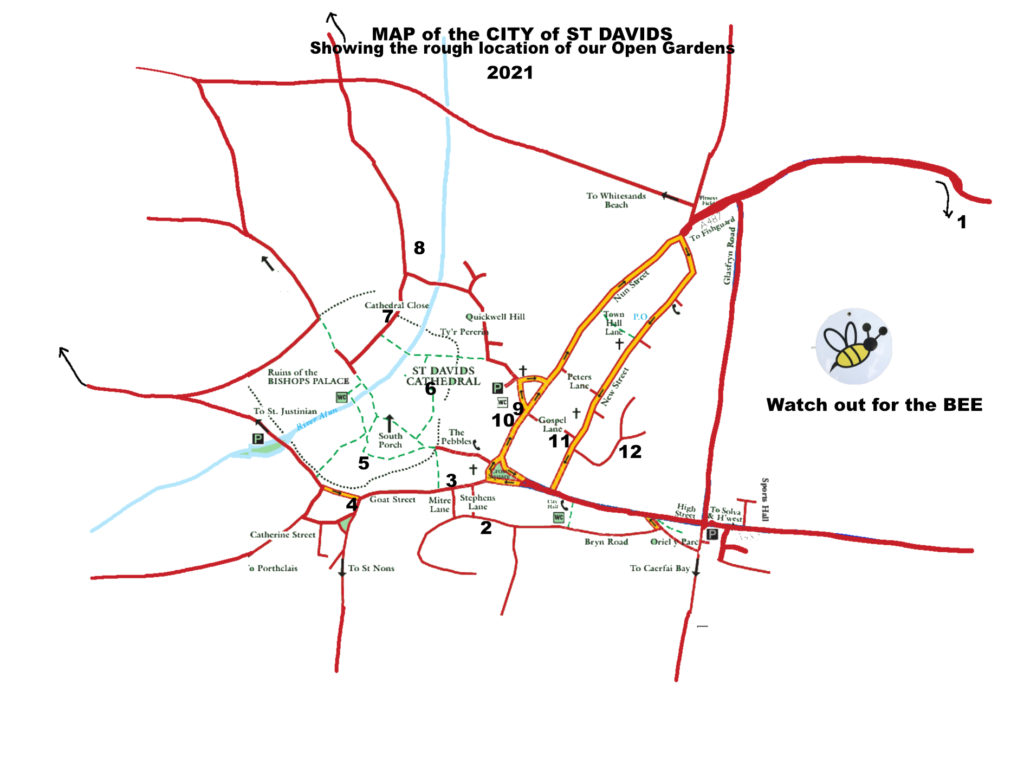 MAP AND PARTICIPATING GARDENS 2021
1. Dr Beynon's Bug Farm, Lower Harglodd Farm  One mile out of the City on the Fishguard Road – look for the flags on the right. Dogs welcome on a lead. Fully wheelchair accessible. Free car parking available along with quick-charge electric car charging point. Only during Bug Farm hours. Please note there will be no hot food available in The Grub Kitchen over the weekend; just drinks, whole insect tasters, Cricket Cookies, cakes and speciality coffees.
2. Janet and David Ingram, 12 Bryn Road.   Dogs on leads please.
3. Liz and Mike Hodson, 12 Goat Street The garden is flat, with no steps, it has an all-weather path and lawn with stepping stones and some large visible roots. Dogs on leads please.
4. Lisa and Chris Sayner & Sue De Silva, 44 Goat Street Some steps to negotiate. Dogs on leads please as there are resident animals.
5. Deanery Garden – The swing is for a very small child only – the tree won't stand anything more! Dogs on leads please. Steep paths slippery when wet.
6. Cathedral Peace Garden – dogs on leads only.
7. Erw Dewi / David's Acre – St Davids Community Garden. Dogs on leads please.
8. Jenny Tripp Black, MBE and Gordon Black, Melin Dan Y Rhiw.  Some steps if you want to explore! Comfortable walking shoes and, if wet, wellington boots! Beware of the bees. Dogs on leads please. Closed on Saturday.
9. Judy Hayward, 21 Nun Street. Access from Quickwell Hill. Dogs on leads please. Open Saturday and Sunday from 12.30pm.
10. Ian & Sue Cohen, 19, Nun Street. The garden is unsuitable for dogs and some of the paths are unsuitable for those with mobility problems.
11. Stephen & Jane Weston, Redcliffe House, 17 New Street. One step at entrance to garden on Gospel Lane. No dogs please.
12. Katy Fox, 13 Maes Dyfed. Dogs on leads please.