Julia & John Mansfield, Old Carpenters Arms, 33 Goat St.
Our house has been many things in it's existence: a pub – the Carpenters Arms; a hardware store and a museum. 
It has a small front garden which was an ugly, awkward car parking area when we bought the house, so after gaining planning permission to 'remove' a car parking space from St Davids we walled across the front and found old railings to erect on top and turned it back into a small garden. It's a treat to have a front garden of any size in St Davids, even though it remains shady most of the day.
There is no alternative access to the small garden at the rear of the house so everyone and everything has to go through the sitting room and kitchen!  Anyone who comes to visit over the Open Gardens' Weekend will be very welcome to go through the house. We run a seaweed and educational foraging business so there is always drying seaweed hanging from the ceiling in the kitchen.
We have a flag-stoned yard outside the kitchen, where a grape vine that we brought with us from our previous garden does really well, providing us and the thrushes with loads of grapes. This is a pretty good sheltered and sunny area for our trimmed bay trees and olives which are in large pots.
A flight of steps run up from the yard to a flagstoned terrace where we have a large fig tree, also from our smallholding and a fairly recently built a wooden conservatory with doors that open all the way across the front so that we could enjoy the sun (when it appears) but feel the wind. Though we very rarely find time to sit in there at the moment, we look forward to using it more when we become even older!
The garden beyond the next steps and trellis is small, but divided into two areas each with places to sit it gives the impression of being larger. We like garden rooms…
When we arrived here there was a sloping lawn that went from the trees at the top of the garden to a crazy paving area that led to a rickety, dangerous plank of wood that tracked precariously across the top of a corrugated shed roof at a lower level, to a plastic door into a bedroom.
We dug out the garden and levelled it into the two areas, joined by stone steps. There is no lawn now. The two areas are made up of borders surrounded by Victorian edging tiles and gravel paths.
Practically the entire garden is made up of herbs or plants that have a use – for food and drink, medicinal, cosmetic, historical interest and craft. It is something that I have always been interested in. The tallest are bay, medlars and different varieties of elder, one of which I use to make pink elderflower cordial. 
I have always loved topiary and have introduced it in my previous gardens which have all been large and able to 'take' topiary. Here I have been self indulgent and still found space for one, a developing peacock in yew at the top of the garden. Fingers crossed, when it is fully mature it won't appear to take over the whole garden.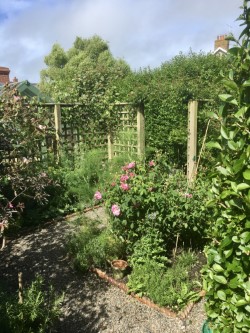 We can just see the sea and have a great view of the Cathedral tower top and its flags when flying and we love hearing the bells that ring out from Porth y Twr.
Visitors are very welcome to explore the Really Wild Soap workshop. Our soap is made sustainably and contains seaweeds and herbs collected locally www.reallywildsoap.co.uk retailing in many outlets including The National Botanic Garden of Wales and some National Trust outlets. 
We have gravel paths and some stone stone steps in the top garden, plus a flight of steps up from the yard which will make this garden inaccessible to some.
There are plenty of places to sit and rest or relax.
Well behaved dogs on leads are welcome but NO dogs in the Soap Shed please.